Irresistibly Crunchy Fruity Cereal Bars That Will Keep You Wanting More!
If you're looking for a quick and easy snack that's both delicious and healthy, you should try making your own fruity cereal bars at home. Unlike store-bought versions, which can be high in sugar and additives, homemade cereal bars allow you to control the ingredients and customize the flavors to your liking. In this article, we'll show you step by step how to make homemade fruity cereal bars that are not only tasty but also nutritious and affordable.
Ingredients for fruity cereal bars Recipe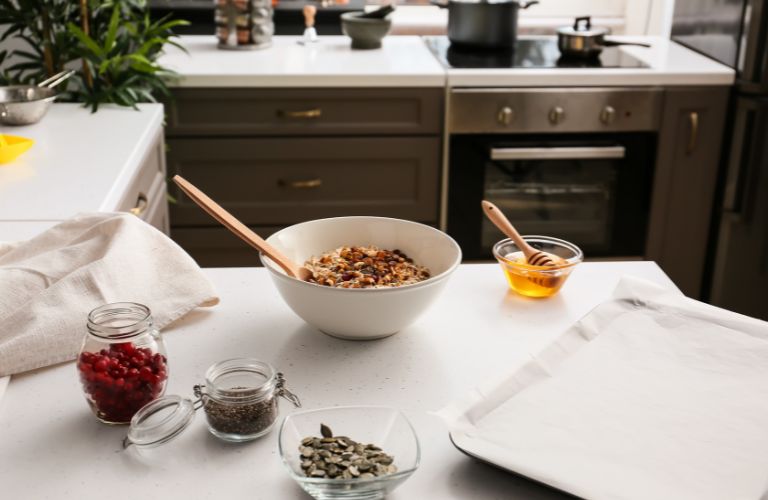 To make 12 cereal bars, you'll need the following ingredients:
3 cups of crispy rice cereal
1 cup of quick oats
1/2 cup of dried fruit (such as raisins, cranberries, apricots, or cherries)
1/2 cup of nuts or seeds (such as almonds, peanuts, cashews, or sunflower seeds)
1/2 cup of honey or maple syrup
1/2 cup of peanut butter or almond butter
1 teaspoon of vanilla extract
1/4 teaspoon of salt
Directions:
Line a 9-inch square baking dish with parchment paper, leaving some overhang on the sides for easy removal later.
In a large bowl, mix together the cereal, oats, dried fruit, and nuts or seeds.
In a small saucepan, heat the honey or maple syrup, peanut butter or almond butter, vanilla extract, and salt over medium heat until smooth and bubbly, stirring occasionally.
Pour the hot mixture over the cereal mixture and stir until evenly coated.
Transfer the mixture to the prepared baking dish and press it firmly into an even layer, using a spatula or your hands.
Refrigerate the mixture for at least 1 hour, or until firm and set.
Lift the cereal mixture out of the dish using the parchment paper overhang and cut it into 12 bars using a sharp knife.
Store the bars in an airtight container in the refrigerator for up to 2 weeks, or freeze them for longer storage.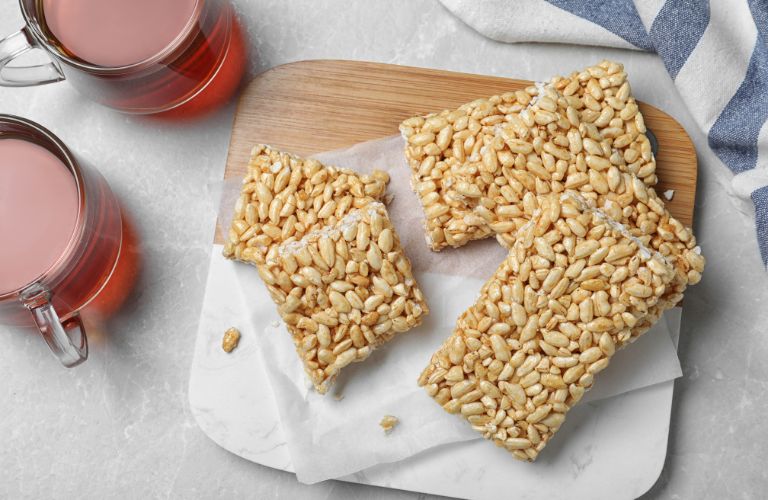 Tips:
You can use any combination of dried fruit and nuts or seeds that you prefer, as long as you keep the proportions the same.
You can substitute the honey or maple syrup with agave nectar, brown rice syrup, or corn syrup, but note that the flavor and texture may differ.
You can use any type of nut butter or seed butter that you prefer, such as cashew butter, sunflower seed butter, or tahini, but note that the flavor may change accordingly.
You can add some spices or extracts to the mixture to enhance the flavor, such as cinnamon, ginger, cardamom, or orange zest.
Nutritional Information for Fruity Cereal Bars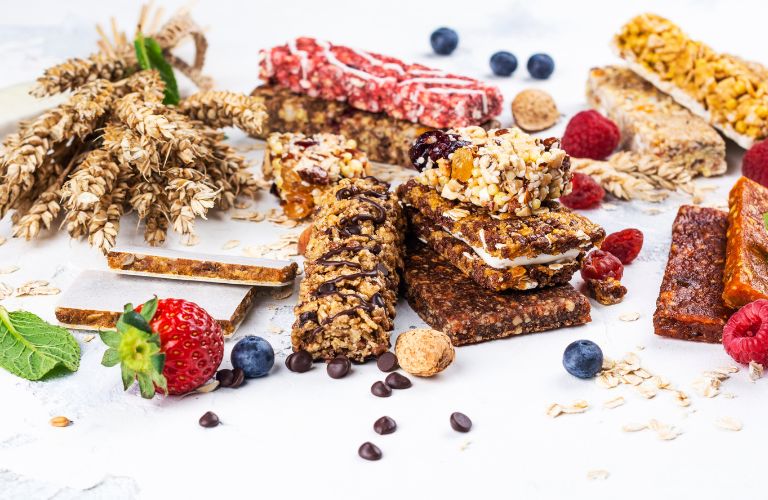 Each bar provides approximately:
170 calories
4 grams of protein
4 grams of fiber
25 grams of carbohydrates
7 grams of fat
9 grams of sugar
80 milligrams of sodium
Other Fruity Bar Recipes
Fruity pebbles cereal bars ingredients:
If you wish to make fruity pepples cereal bars, below are the ingredients to use:
6 cups Fruity Pebbles cereal
3 tablespoons unsalted butter
1 package (10 oz) marshmallows
Cooking spray
Directions:
In a large mixing bowl, measure 6 cups of Fruity Pebbles cereal and set aside.
In a microwave-safe bowl, combine the mini marshmallows and unsalted butter.
Microwave the marshmallows and butter on high for 1-2 minutes, stirring every 30 seconds, until completely melted and smooth.
Pour the melted marshmallow mixture over the Fruity Pebbles cereal and stir until well coated.
Spray a 9×13-inch baking pan with cooking spray and transfer the cereal mixture into the pan.
Use a spatula or your hands to press the cereal mixture evenly into the pan.
Let the bars cool and set at room temperature for at least 30 minutes.
Once set, use a sharp knife to cut the bars into desired sizes and shapes.
Preparation time: The preparation time for this Fruity Pebble Cereal Bars recipe is minimal. You can expect to spend around 10 minutes preparing the ingredients, and 30 minutes allowing the bars to cool and set at room temperature. In total, you can have these colorful and delicious bars ready to serve in under an hour.
Servings: This recipe makes around 12-16 bars, depending on the size you cut them.
Note that this recipe may differ from other recipes for cereal bars using different types of cereal or additional ingredients.
Recommended Video
Fruity pebbles cereal bars walmart
If you're looking for Fruity Pebbles cereal bars at Walmart, you can check the cereal bar aisle or the snack bar section of the store. Walmart carries a variety of snack bars, including cereal bars, granola bars, protein bars, and more. You can also use the Walmart website or app to check the availability and price of Fruity Pebbles cereal bars at your local Walmart store. Additionally, you may be able to find Fruity Pebbles cereal bars at other retailers or online stores that offer grocery or snack delivery services.
Conclusion
In summary, homemade fruity cereal bars are a great snack option that you can make in no time with simple and healthy ingredients. By following our recipe and tips, you can create your own delicious and nutritious bars that are suitable for any occasion, whether you're on the go, at work, or at home. We hope you enjoy making and eating these bars as much as we do, and share them with your friends and family. Thanks for reading!
Explore our next articles: